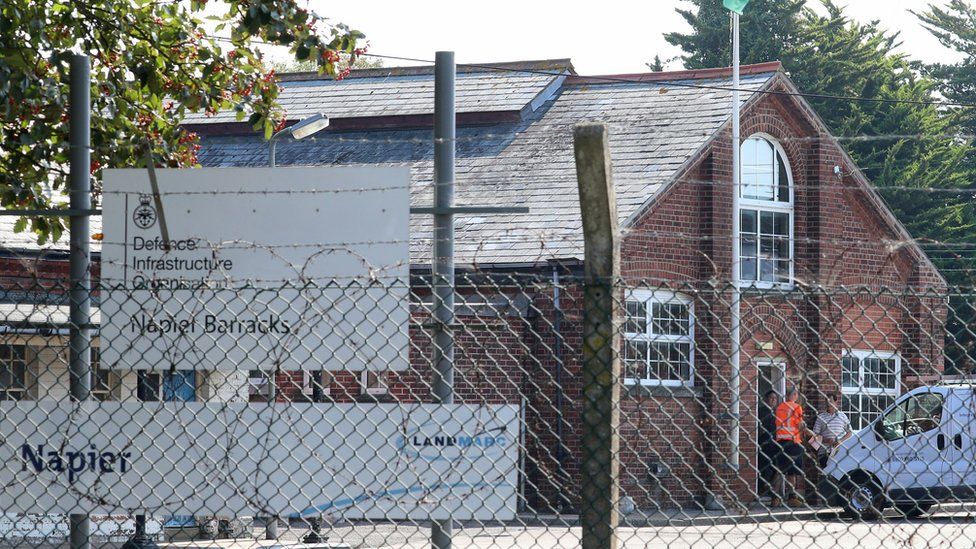 MPs said they have been "fobbed off" by the Home Office in their attempts to visit a military site used to house asylum seekers.
The Home Affairs Select Committee said it asked four weeks ago to visit Napier Barracks at Shorncliffe in Kent, but had received no reply.
In June, the High Court ruled housing migrants there was unlawful.
The Home Office said it has proposed dates for the visit to "coincide with the easing of Covid restrictions".
A spokeswoman declined to comment on when these dates were offered and if previous requests were ignored.
Officials previously said "significant improvements" had been made at the barracks.
The court case was brought by six asylum seekers housed at the camp near Folkestone and followed an outbreak of Covid-19 as well as a fire.
'Highly questionable'
The select committee chair, Labour's Yvette Cooper, said members had been planning to visit the site on Tuesday.
Conservative member Tim Loughton said: "We have been fobbed off on numerous times.
"Increasingly it is getting difficult to get responses from Home Office officials, Home Office ministers, let alone to get them to appear in a timely fashion in front of us.
"This particular visit is directly related to some evidence given to us by ministers, which now turns out to be highly questionable and impacts on reviews and reports we're currently preparing."
In April, the Home Office declared the Covid outbreak was over and insisted asylum seekers were staying in "safe, suitable, Covid-compliant conditions".


Source:https://www.bbc.co.uk/news/uk-england-kent-57825881